All-Welded Plate & Shell Heat Exchanger
Retains the full counter-current heat exchange characteristics of the detachable plate heat exchanger, which is 3-5 times more efficient than the traditional shell-and-tube heat exchanger. There are no gaskets on the original semi-welded heat exchanger. Depending on the application, the plate and frame can be differentiated into three types:
  1. Which cannot be disassembled
  2. Detachable on one side
  3. Detachable on both sides.
| | |
| --- | --- |
| Plate Material | Media |
| Stainless steel Alloy 316L/Alloy 304 | Pure water, Revir Water, Edible oil, Mineral Oil. |
| Titanium | Sea Water, Salt Water, Salt Material. |
| Ni | High concentration caustic soda. |
| Allay C276 | Concentrated Sulfuric Acid, Hydrochloric Acid, Phosphoric Acid. |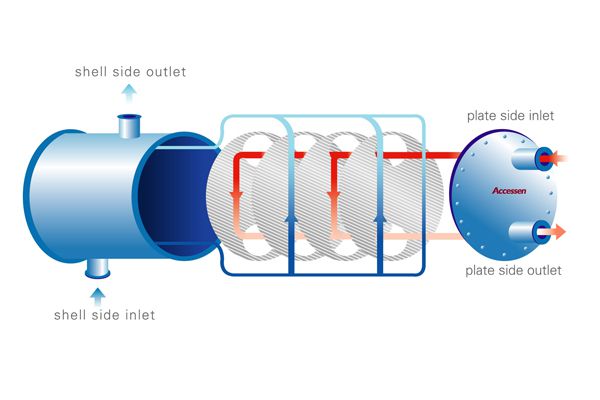 Applications:
Machinery manufacture.
Marine.
Desalination.
Electrical Energy.
Pharmaceuticals.
Food & Beverage
Pharmaceuticals.
Paper Industry.
Refrigeration
Industrial, Organic Chemical.
Benefits:
Flowpath design of the plate for the perfect distribution, no dead zone.
Ultra-wide flow.
Non-contract guarantee.
The largest single-sided channel up to 5-20 mm.
Specifications:
Maximum processing capacity: 2500m³/h.
Maximum design pressure: 60bar.
Maximum temperature: 500℃
Plate materials: AISI304, 316, 316L, Titanium, Hastelloy, Ni, SMO254
Which certificates are available for the heat exchangers? 
ASME, ISO, AHRI, BV, DNV etc… Case by case certificate was allowed.
Address
Office 03, BVS Business Center, Barsha Valley,
16 Street 373, Al Barsha 1,
Dubai, UAE